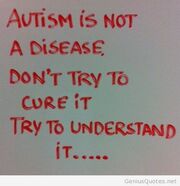 Welcome to Autism Wiki! Now merged with the Asperger and Exposing Neurodiversity Wikis.
A wiki is a website that's created by the people who use it. Autism Wiki is a place where people with autism and Asperger's, and the people who care about them, can share their stories and build a database of helpful information.
If this is your first time on a wiki, then the first step is to create a user name -- it's free, and it only takes thirty seconds. As of January 21, 2016, you can no longer edit as an anonymous IP. Then visit the sandbox to try out your first edit!
You can add your story, too! Sign in, and then type your user name in this box to create a new story page.
Ad blocker interference detected!
Wikia is a free-to-use site that makes money from advertising. We have a modified experience for viewers using ad blockers

Wikia is not accessible if you've made further modifications. Remove the custom ad blocker rule(s) and the page will load as expected.