Introduction
Hi, my name is Maraya Star Adams, and I'm a 16-year-old girl with autism, OCD's, depression, a visual impairment, and ADHD.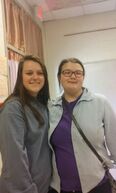 My Life
Where I Go to School 
I go to Northgate High School with my older sister, Haley, and my younger brother, Andrew (Andy for short).
I also have a dad named Ryan and a stepmother named Lisa.
I am a sophomore there even if people at school think I'm a freshman by mistake.

Why I Don't Like Going to School 
Last year in 2016, I took some hard classes such as algebra and ninth grade literature, but since literature was hard, I failed it, so I had to take it again in August 2016. But then later in September, I found out that I was failing ninth grade literature (again) and algebra 1. So I had to start taking special ed classes in order to pass the whole sophomore year.
But then later in October 2016, I started having problems in there too. I had a mean teacher named Ms. Sherrit, who always yelled at me whenever I did something wrong. She always got mad whenever she yelled at me and because I have autism, I get intimidated by her voice.
I know I have so many problems in her class, including concentration problems, brain jams (I get them when I can't think of any ideas), impatience, and more.
So that's why I hate going to school now.
Why I Like Going to School 
Before I got my classes changed, me and my family moved from Walt Sanders Road to a house in Firethorne (that's in Thomas Crossroads). So that meant that my routine was going to be changed and I had to ride a different special needs bus to school.
I remember that on the first two days I had to ride my sister's new bus to school until I got to ride my own bus. I knew that it was stressful for me to do the morning transition at another neighborhood called The Summit. And plus 9-04 (my sister and brother's second morning bus) was really noisy when I got on it.
But on the second day of school in the afternoon, I thought that I had to ride 9-04 with my sister and brother again, so I waited for my siblings to get out of school. But while I was waiting for them, a man named Mr. Whatley led me to my new bus and bus driver. And believe it or not, my bus driver was the best one in the world. So now I'm used to the new routine at my new house and I ride another special needs bus called 158M (sorry that I got off topic).
The actual reasons why I like going to school now is because I love riding my bus to school and on the way home. I also like seeing my actual parapro named Ms. Ryan. 
Those are the only reasons why I like going to school, but let me continue.
My Team ASD Helpers 
Before I started taking special ed classes, I had a couple of classroom aides who helped me. And now that I do take special ed classes, I have a parapro instead. But all the helpers I've got all my life include a speech therapist and an occupational therapist. I also started getting a psychologist in February 2015, which I see him every four weeks or so.
My Favorite Things to Do
Although I have depression too, I still have a couple of things that I love doing. One of my favorite things to do is seeing a dog named Ruff Ruffman on the computer. Then the other things that I love doing is drawing my own cartoons, writing, and dancing. I remember that on September 2016 I started to take dance classes at school. And although it was repetitive, it was still a lot of fun! Now I'm just hoping to take visual arts next semester because I love using my imagination.
Problems/Skills That Ruff Helps Me With 
On June 28, 2015, I started to have an obsession over Ruff. And actually I remembered that I got so obsessed over Ruff that I played this great game on pbskids.org called "Smoothie Operator." When I played this game for the first time,  I got scared, then after I took a couple of deep breaths, I played it, and it was so much fun! I found out that Ruff himself in the game acted like a teacher who helps kids for the disabled (including autistic kids too). And now that it's December 2016, I'm still obsessed over him and we practice all kinds of skills, such as eye contact and communication.
To play this game, go to 
tml http://pbskids.org/fetch/games/smoothie/game.h tml
thumb|NaNxNaNpx|link=http://pbskids.org/fetch/games/smoothie/game.h
[[undefined|thumb|NaNxNaNpx|link=
http://pbskids.org/
My Sensory Issues 

Sensory issues
can be another symptom for kids who have autism. Me and Ruff always practice this skill together because he knows that I'm afraid of loud noises and I have issues with taste and texture. We also try to make these issues go away and get smaller and smaller each day.  
Here are the senses that I have from the most to the least:  
Hearing (hyper)  
Taste (hyper)  
Sight (hyper)  
Balance (hyper)  
 Smell (hyper)
 Body Awareness (hypo)
 Touch (hypo)
I know that I'm mostly hypersensitive rather than hyposensitive.
Am I the Only One With These Issues?
At school, I may be the only student in the class who has hyperhearing, but I'm really not the only one in the world who has these issues because everyone's autism is different.
These Skills Also Matter
Ad blocker interference detected!
Wikia is a free-to-use site that makes money from advertising. We have a modified experience for viewers using ad blockers

Wikia is not accessible if you've made further modifications. Remove the custom ad blocker rule(s) and the page will load as expected.