&nbsp
Stephen Wiltshire
(born 1974) is an
autistic savant
who was diagnosed with
autism
when he was three year old. Over a period of time, his autistic savant abilities developed and he became an accomplished architectural artist.
He was born on 21st April, 1974 in London, and his parents were of West Indian origins. At the age of three, it was diagnosed that Wiltshire has autism. The same year (1977) his father died in a motor cycle accident. He could not learn speaking even when he was three, but ultimately learnt to speak from the age of nine. When he was four, he was sent to a London school named Queensmill School. Within a few years, he expressed his interest in drawings, and by the time he was eight, he had started to draw seriously especially cars, and post-earthquake cityscapes. His teachers encouraged him to draw.
In February, 1987, BBC aired a program about autistic savant. One section of the program covered 13 years old Stephen Wiltshire. He drew before the camera an accurate image of St. Pancras station, which he had visited first time just few hours before.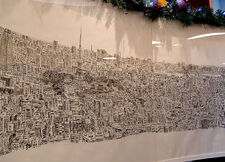 The drawing was remarkable and complete with all the details as Stephen Wiltshire had seen the same exactly at 11:20. The program attracted a lot of public attention, and BBC received many telephone calls and inquiries about the talented boy. Ultimately, an entire volume of his works entitles Drawings was published in 1987 by J.M. Dent & Sons, Ltd (London).
His other published works include:
Cities ( J.M. Dent & Sons, London, 1989)
Floating Cities (Summit Books, New York, 1991), containing drawings of Venice, Amsterdam, Leningrad and Moscow. *Stephen Wiltshire's American Dream (Michael Joseph, London, 1993) depicts his drawings of U.S. architecture and the desert landscape of Arizona.
Stephen Wiltshire has always concentrated on architectural drawings an paintings:
At the age of ten, he created drawings which came to be known as London Alphabet, depicting places in London beginning with all the characters of the alphabet from A to Z. The drawings began with the Albert Hall and ended with the London Zoo, with many other monuments like the the House of Parliament and the Imperial War Museum in between.
A 2001 BBC documentary named Fragments of Genius reveals the unique drawing talent of Stephen Wiltshire. He is flown in a helicopter over London for sometime, and after landing, he drew in about three hours 12 landmarks and 200 other buildings as he has seen during his helicopter ride. The details were remarkably accurate.
He has always liked music as a listener and as an amateur singer singing to the tune of the music he was listening to. However, in 1993, it was discovered that he has also good musical abilities with perfect pitch. Oliver Sack's 1995 book An Anthropologist on Mars, describes artistic and musical abilities of Stephen Wiltshire.
Recognition
Edit
Stephen Wiltshire's abilities have been widely recognized. Sir Hugh Casson, former president of the Royal Academy, had praised the special abilities of Stephen Wiltshire in these words: "Happily, every now and then, a rocket of young talent explodes and continues to shower us with its sparks. Stephen Wiltshire — who was born with severe speech difficulties — is one of those rockets ... His sense of perspective seems to be faultless… I've never seen in all my competition drawing such a talent, such a natural and extraordinary talent, that this child seems to have, is possibly the best child artist in Britain."[1] [2]
References
Edit